The 2019 Season is almost here, folks, and it's so close we can nearly taste it. Today, the Tennessee Titans rookies and others have reported for training camp which includes probably the most controversial position group: the Quarterbacks. As many have discussed for months now, the Titans have one of the more complicated to-do lists with many players entering 2019 in their contract year including Kevin Byard, Marcus Mariota, Derrick Henry, Jack Conklin, and Logan Ryan. Today, I am going to explain what I think the Titans should do with their current Quarterback situation.
This morning this conversation took an interesting turn when Mike Sando of the Athletic released the 2019 Quarterback Tiers. This is a 4 tier list that ranks each NFL QB based on the anonymous opinions of 55 NFL Executives and Coaches.
To the surprise of some, Marcus Mariota was ranked in tier 3 which has been dubbed by Sando as the "Average Tier." This gave him an overall ranking of 26th out of 32 teams. See the full breakdown and opinions on Marcus Mariota below: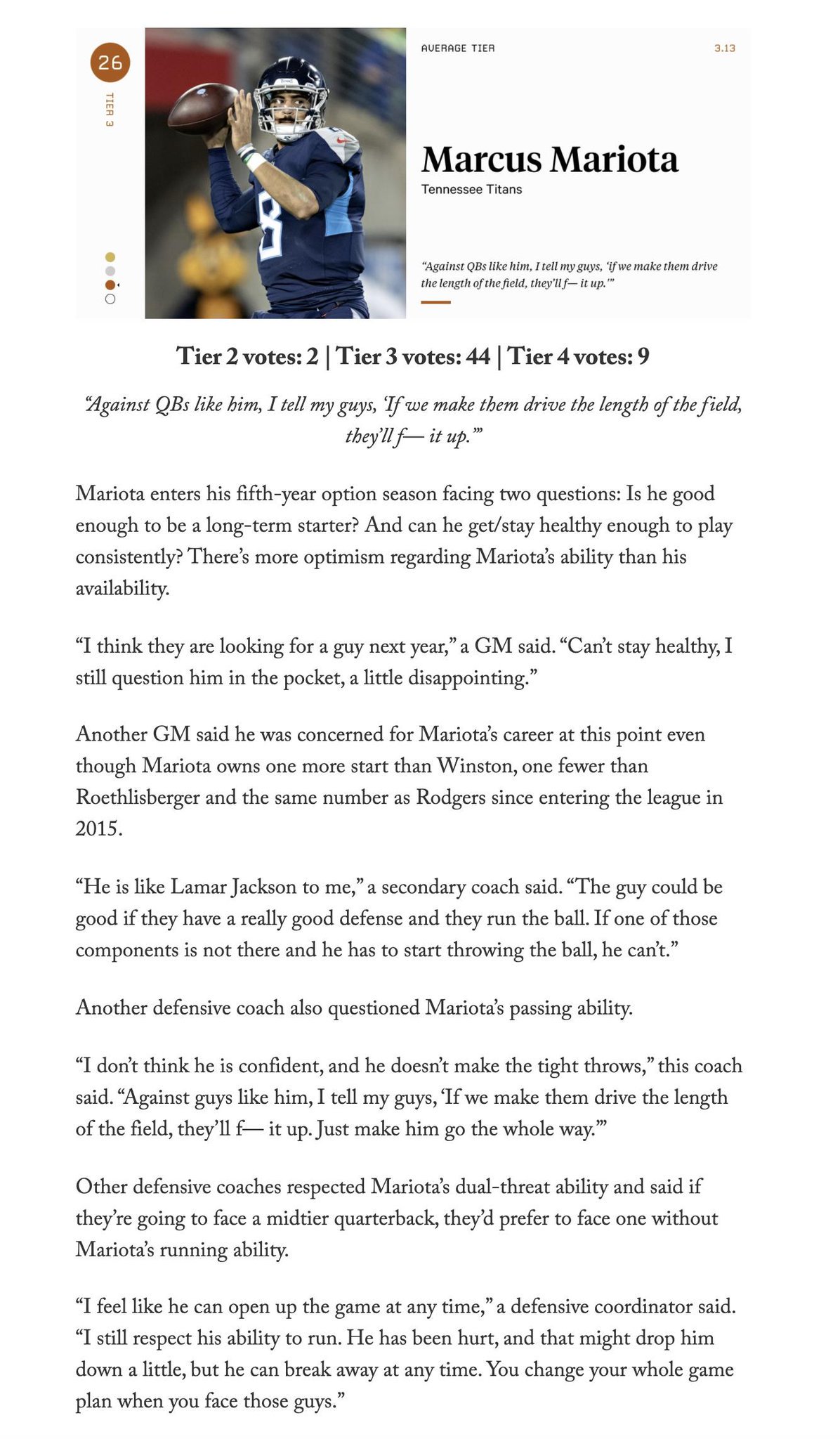 I'm not here to debate this placement because honestly I agree with the vast majority of it. Even as a Titans fan, I can not going to ignore the opinions of NFL Executives and Coaches and to be frank, this isn't a shocker to me given the complexity of Mariota's situation in Tennessee. I shared my immediate opinion about this article once the story dropped:
To elaborate further on my initial opinion, this article doesn't change anything about the Titans situation with Mariota. Mariota has never been known as a passer-first style Quarterback, and I don't think he would have had the success he's had without his ability to keep defenses honest with his ability to run.
---
CHECK OUT OUR MOST RECENT PODCAST EPISODES! 
---
My Ideal Situation for the Titans QB situation After 2019
Barring Marcus Mariota having significant struggles in Arthur Smiths offense or another laundry list of injuries in 2019, I believe Marcus Mariota will be franchise tagged by the Titans after the 2019 season. With this move, the team would let Ryan Tannehill walk, and given the lack of talented QB's in Free Agency, the Titans would have to give a good bit of draft capital to move up in 2020 Draft and get a solid first round QB. In this scenario, this gives the team the ability to announce the franchised-tagged Mariota as the assumed starter going into 2020. This gives the Titans continuity with the offense as a whole, but it gives them a Rookie QB, say a guy like Jake Fromm from UGA, waiting in the wings to take the reigns should Mariota have any issues.
As you can read in Sando's article, 80% of the league's executives and coaches polled consider Marcus to be a tier 3 QB. I would assume these are some of the Leagues more well-known decision makers for their respective teams. Even if Mariota goes out and puts up some of the best statistical numbers of his career – I believe he would be ranked no higher than the middle of tier 2 and no lower than the middle of tier 3 in the following list. I know the Titans want to be a run-first team, but this offense could take a significant jump if they had a QB that had the arm-talent of a guy like Fromm. He would be my ideal pick given his time in the run-first offense at UGA and Derrick Henry is built to run the ball 15+ times a game – it's nearly a match made in heaven. Even if Mariota was the definitive starter for the next few years, it gives the Titans a much better backup and the time to breathe and decide how to move forward.
As we all know, this is one of a million scenarios that can play out for the Titans in the next 24 months. My ideal scenario gives the Tennessee Titans the ability to move forward without losing a step, avoid drastically overhauling their roster, or changing offensive scheme. They are able to simply add a different style quarterback that can run the already established offense should Marcus Mariota's time come to an end.
Love my take? Hate it? Let me know on Twitter!
---
ARTICLE BY TRES WINN