The Vols have landed one of the top in-state prospects for the class of 2020. Cooper Mays from Knoxville's Catholic High School is a coup for the Volunteers staff and Jeremy Pruitt. This staff will look to lock down several more of the state's top prospects in a class that features some of the best talent that Tennessee high schools have seen in years. Coaches and fans alike will hope that the pledge from Mayes will perpetuate the momentum that the program has picked up on the recruiting front in June.
Cooper is the type of player that could anchor the center spot for at least a few years at the University. The hope for fans and staff alike is that the team will be in a spot where players like Cooper can benefit from a year in the strength and conditioning program before being tested at an SEC level. However, Cooper will come into the program more aware than most of what it takes to compete at the highest level. His brother Cade and his father Kevin play and played at Georgia and Tennessee respectively. His family's experience and advice will help prepare him for the next level and likely will give him a greater understanding of the game, aiding him in learning protection and scheme. The youngest Mayes has shown a mean streak on the field to partner with his good size and technique. Look for Cooper to have a great season for Knox Catholic and push for his high school teammates to join him on Rocky Top. The Vols will hope that his commitment helps get the ball rolling.
---
CHECK OUT OUR MOST RECENT PODCAST EPISODES! 
---
Under the previous regime, the Volunteers were unable to lock up some of the best prospects in their own backyard. Seeing Tee Higgins and Amari Rodgers don a different shade of orange and help lead a less storied program to a national title is a sensitive subject for Vol fans. How Tennessee fares locally with this recruiting class may prove to be a litmus test for the future success of the staff and the program. While a few recruits will not make or break Pruitt's tenure here, his ability to close here on two or three of these Catholic players would further indicate that he has a leg up on the previous regime.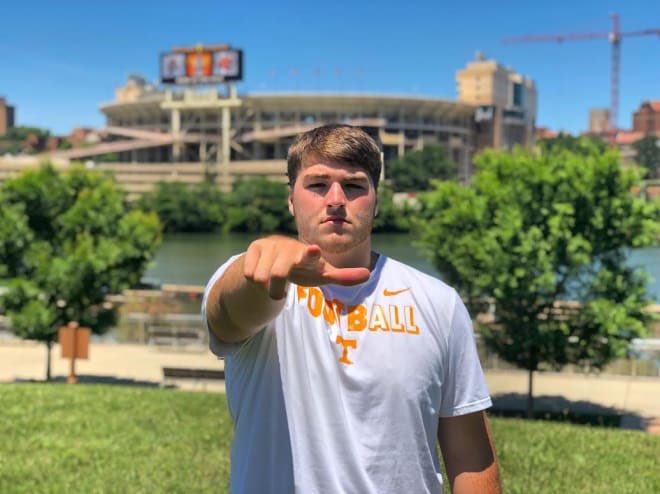 In addition to Cooper Mayes, there are two other recruits on Knox Catholic that the Vols will attempt to close down. Bryn Tucker, an offensive guard, is one of the best lineman in the state, but is currently committed to Clemson. That won't stop Cooper from being in his ear about joining him on Rocky Top. Tyler Baron, who projects to play on the edge, is another of the state's best prospects and has been having a stellar summer which should help him continue to elevate his status to one of the nation's best. Baron has been on campus multiple times and has long been thought a Volunteer lean, but as time goes on without his commitment, speculation and concern is beginning to grow. Cooper jumping on board can only help the chances of him choosing orange and white.
While it is too early to be concerned, the Vols have started slower on the recruiting front compared to previous years. A strong showing from Tennessee on the field would likely go a long way toward cementing a top ten recruiting finish for the class of 2020 and would likely solidify this program as serious contenders for many of the nation's top players. Today's recruits were not alive for Tennessee's national championship. The decade-long pitch of rebuilding a former dynasty is growing old. This is a bit unfair for Jeremy Pruitt who has inherited a dumpster fire, but such is the nature of competing in the SEC. The coaches will hope that they can carry this momentum off the field and build some momentum on the field to get this class and program closer to where it needs to be. Look for this commitment to have a ripple effect in the city and possibly even the state with other commitments to follow.
---
ARTICLE BY MICHAEL PIPER